Redi-Rock – Security & Force Protection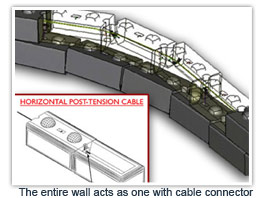 For protecting buildings from blast on a permanent or temporary basis Redi-Rock blocks are a very attractive solution.
The value of the Redi-Rock system in force protection applications has been confirmed after a series of successful crash tests.
Carried out under stringent conditions at the UK's Transport Research Laboratory, the tests proved that Redi-Rock meets the full requirements of the PAS 68: 2007 standard.
Removable and relocatable, they can be placed into position very quickly - removed then stored for further use later on. Very strong, and easily able to withstand any direct assault by car or van. For maximum efficiency, each barrier wall must be designed to meet the perceived threat.
Redi-Rock's Force Protection System is designed using massive concrete blocks with vertical j-bolt connections, and horizontal post-tensioning cables.
Summary of Security benefits
Looks like a natural stone wall, planters and other finishes available
Each block weighs approx 700kg
The whole wall acts one massive unit
Simple and quick to install (3 men can lay 25 meter x 1 meter wall with cables in 1.5 hours)
No ground fastenings, so no damage to location
No maintenance
Unique interlocking mechanism
Permanent or temporary solution - instantly relocatable
Maximum protection
Can be used with retaining wall system
Applications of Redi-Rock >