Redi-Rock – Rail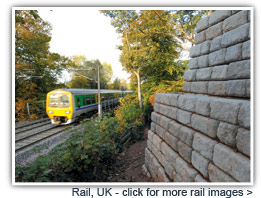 Britain has the fastest growing railway network in Europe. As the renaissance of rail generates more freight and passenger activity, so the pressure has grown on the sector to deliver more reliable and efficient services.
Meeting the demanding targets set by the Office of Rail Regulation requires a re-examination of methodology and the pursuit of new practices and processes.
Redi-Rock has been used many times on the national railway, particularly for reactive works, where expensive weekend closures have been avoided due to the speed of installation.
Redi-Rock system advantages for the Rail industry:
Less disruption to services through quick and economical installation
Less land take-up required than traditional methods
Flexibility in project planning and delivery
No maintenance
Natural stone appearance to blend in with local environments
Commercial Development applications >