Redi-Rock – Commercial Developments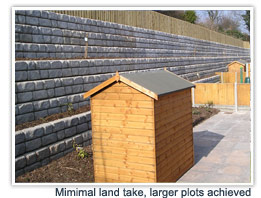 Redi-Rock is ideal suited for commercial developers wanting to maximise the value in their land while providing an attractive finish.
On top of this, it is much faster to install, and as it is dry laid is flexible enough to be changed as plans change throughout a development. In our Huddersfield case study you will read that a curve in the wall was added as the wall project was already well underway.
The Redi-Rock blocks can be coloured to match local stone, planter blocks can be added and different faces are available. Already used many times by developers such as Wimpy in the UK, and national chains such as McDonalds in the US, it is a proven system that can make a real difference to the value of the land.
Summary of advantages for Developers:
No ground shaking pile driving, allows walls to be be built nearer existing property
No geogrid means less land take, and more land use
Modular and dry laid, means the wall can adapt to changing project plans
Blocks delivered ready to use, when and where required
Can be laid in all weather, so no delays in installation
Massive savings on labour compared to alternative systems.