Redi-Rock Overview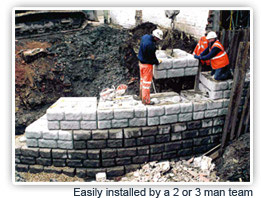 Engineered concrete solutions with the look of natural stone – much more than a retaining wall.
The massive 1 tonne interlocking concrete blocks are moulded from solid concrete and delivered ready to build. As they are dry laid, it is a quick job building a wall, like giant concrete Lego™.
The blocks are versatile enough to achieve height (Up to 7.32m without geogrid!) without compromising strength, with fully engineered plans pre-drawn for hundreds of different heights and ground conditions.
We can work with you as required, from costing and planning to manufacture and installation – including creative problem solving and modified solutions for security or flood defense requirements.
Key Features: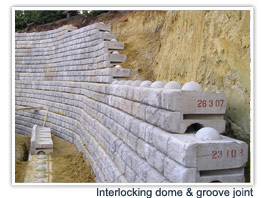 Fast and easy to install - up to 10 times the speed of traditional solutions
Blocks delivered ready to build
The Interlocking blocks need no cement, so can be laid in any weather
Aesthetically pleasing, with the look of natural stone
Can be coloured at source or on-site to match different local environments
Different concrete faces available – Limestone, Cobblestone, London Stone or any bespoke face
Minimal maintenance required
Engineered Strength, achieving height without geogrid – up to 7.2metres.
Security / force protection / flood protection systems available
Can be used seamlessly with Redi-Rock freestanding walls
Full design and installation support offered as part of the package
Can be specified with eco-friendly cement (recycled aggregates)
Only 2 – 3 man team required to lay blocks
If plans change, just pick up and build in a new location - the ultimate sustainable solution