Redi-Rock History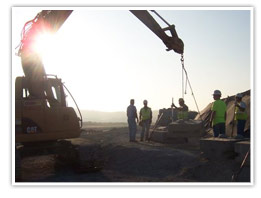 For years, the retaining wall industry was dominated by labor intensive small block systems that required costly and labor-intensive geogrid tiebacks. But in 2000, Redi-Rock International introduced a revolutionary product line that has changed the way engineers and contractors will look at retaining walls forever. Massive, natural looking rock faces accompanied by an efficient installation system have made Redi-Rock the leader in the big block retaining wall industry.
Redi-Rock International was born out of MDC Contracting, a small, family-owned road building and ready mixed concrete company in Northern Michigan in North America. Ernest Manthei, founder of the company, passed on the business to his sons Jim, Mark, and Ben Manthei and the company's values of honesty and integrity have allowed them to develop a solid reputation for quality work.
In the midst of a construction boom in 1998, Jim Manthei began experimenting with the idea of a big block retaining wall system built entirely from wet cast concrete. In contrast to the small, drycast blocks on the market at the time, Redi-Rock's massive size, aesthetically pleasing quarried stone faces, and revolutionary knob and groove connections allowed tall walls to be built without costly and time-consuming geogrid. Jim Manthei's big block invention presented the perfect solution for Northern Michigan's blossoming growth.
Redi-Rock University was launched in 2004 to provide training and support to the growing dealer base.
Well over one hundred dealers service North America today and Redi-Rock went gloabal in 2006.
In the UK, CPM Group now look after Redi-Rock with great success.
Commitment to quality products, innovative designs, and customer service have made and will keep Redi-Rock at the forefront of the big block retaining wall industry.


Redi-Rock Downloads >